I first saw the
Sex and the City 2
teaser trailer 6 months ago. As a recent fan of the show (I was too young to watch it in 1999) and one of the many women that saw the first movie more than once at the theaters, it was hard not to contain myself after seeing it. Months went by and I forgot about it but suddenly out of nowhere came a slew of advertisements and promos for SATC2. Everywhere you looked, whether on the side of a bus or on the logo of your Skyy Vodka bottle, SATC2 was everywhere. Most notably was the fashion that inspired department stores like Macy's or Bergdorf's to display tributes in store windows. But while retailers and die-hard fans anticipated the opening of the new movie, a completely opposite thing was occurring among film critics. There is not one review that I found that hailed the film as "better than the first," which is what ads/commercials were promoting (enlighten me if you find one otherwise).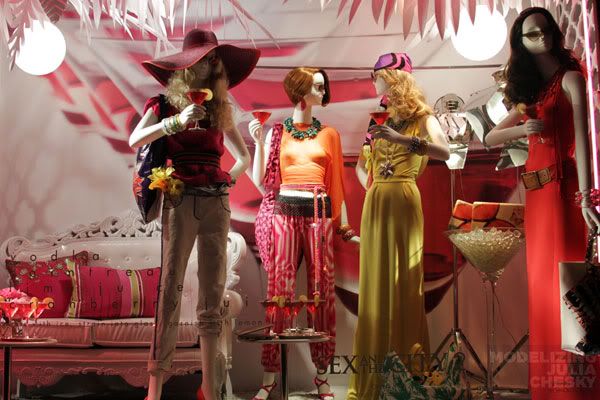 one of my favorite blogs by Julia Chesky, Modelizing featured this display at Bergdorf's. see more here
The problem with these big name pictures or anything in the media these days is the continuous hype that builds up until the value of the product is completely lost. This is exactly what happened with
SATC2
. Despite the negative reviews and whatnot, fans still did their cosmos and dress-up before heading to the theater. The overly excited person I was 6 months ago completely changed after seeing over 100 ads within a month before opening weekend. I was turned off and decided that I would settle waiting for it on DVD (which I assume will be in a few months anyway). But alas, come sunday night my friend and I had nothing better to do and both hadn't yet seen the film so...
15 seconds into the film and my anticipation for what was about to come grew more and more. My reluctance to watch the film in the first place immediately vanished after an audience of 99% women began to applaud and cheer. This growing anticipation within me was fueled by the 2.0 version of Fergie's "Labels or Love" theme from the first
SATC
movie. Why was I suddenly excited to see this film? And despite all the terrible reviews I read beforehand? My pre-conceived notions went down the drain from that moment on and I realized that this is a movie that is not meant to be reviewed and criticized by 40 year old men (excuse the generalization). If you saw the film, you can agree that really, there is no point to the film other than to have fun, celebrate the friendship all women love and to film another movie in an "exotic" location. And this is exactly where the problems I have against the film begin.
Aside from the uber cheesy "jokes" and one-liners ("Lawrence of My Labia" is my personal favorite), beneath it all was a layer of different issues that provoke thought on women's rights in & outside America. This layer, however, can easily go unrecognized because each point was then followed by a cheeseball line or a performance by Liza Minelli. I can sit here for hours picking out details that enforce women's rights (Carrie wearing a suit to the wedding, Miranda quitting her job) and in this way, I think the film is great in addressing these issues. But where the film really crosses the line occurs in almost every scene in Abu Dhabi (what really is Morocco..how surprising). The New York women are so fascinated by the culture, and by "fascinated" I really mean appalled. They can't grapple the fact that women are given less rights. They seem to forget that they are not in Kansas anymore...or I guess New York.
Throughout the movie, the idea of women having no voice at the workplace (Miranda), in literature (Carrie), or just in general (the women of Abu Dhabi) played a continuous role in shaping the plot/dialogue. The only problem was that the film ended with no resolution for these "non-rights." Before the women leave Abu Dhabi, they meet a group of women in burqas that have a secret room where a group of women meet...sort of like a book club, but it turns out to be so much more superficial than that. Oddly enough these women reveal that under their burqas are the latest fashions, and all the judgments made against them for tolerating their patriarchal culture are forgotten solely because they are fashionable. For the entire film, the audience is supposed to feel bad for these women that have little to no rights but when they finally reveal themselves & their personalities, they turn out to be completely shallow. From this picture, I concluded that the moral of the story is that everything is ok because in the end, there is fashion. And fashion saves lives.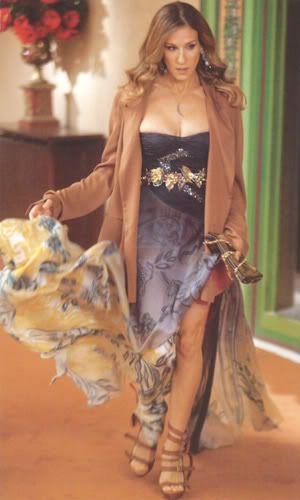 I don't disagree that fashion is the greatest thing on planet earth (besides water & yoga) but to conclude with the idea that being covered in these burqas restricts women from wearing fashion in public is...pushing it. The very thing that ornamented the show with lustful Loubitins or Manolo Blahniks became the epicenter of the movie. Which is probably why it lacked depth.
I came across
this article
from Vanity Fair which calculates the price of each Carrie outfit. The total was about $230,000.
The photo to the left is my favorite and totals to $12,580.
I am almost certain that the only women with a wardrobe that extensive are the Real Housewives of New York. Or the Queen of England. Though the fashion is a rudimentary part of why people watched the movie (for me, personally), the degree of consumerism in every SATC episode or movie is heightened as the years progress. But essentially, Patricia Field plays a great factor in building a SATC fan base. There is no other movie or tv show that is styled so uniquely and expensively. With this comes the number of promos and themed events that reduce the level of importance for the highly feminist plot. People are watching
SATC2
for entertainment and that only. And it succeeded in doing so. I did not dislike the film for this reason, but there is still the issue of concluding a film without...well...a conclusion. The women made it back to New York without getting infected with the west Nile virus and that's all that matters. Oh, and more importantly with new $20 pairs of shoes.
If there is anything I took away from this film was that although [some] men will discriminate against me and other women, at the end of the day we have our friends, our shoes, and Liza Minelli.