tomorrow marks the last
first friday
of the year! I've never gone to this event on Abbot Kinney so I'm even more excited about it. I'm not exactly sure what festivities to expect but I don't think Abbot can fail me. word on the street is, there's free wine but since I can't drink yet (
damn you, pancreas!
) I'll be sticking to herbal refreshments...stores that normally close early in the daytime close at 10 p.m. so I'm looking forward to see all the art galleries and possibly make new hipster friends :)
sooo why the sudden urge to blog about the amazingness of Venice? it was Tony's birthday about 2 weeks ago and to celebrate, he wanted to hit up the bars on Abbott Kinney..most of which I've never been to (
Lord, does this post make me feel like a square or what?
) really, I could probably say that since living in la, I've spent less than a total of 10 hours on Abbot Kinney. in other words, this means even though I live approximately 10 minutes away from this slightly gentrified Venice street, I can count with my fingers the number of times I've been there. pathetic! it's such an amazing neighborhood and reminds me so much of San Francisco, which I do tend to miss at times. while the shopping is very high end there is still so much to be seen and so many unique things to buy/admire...I also hear the restaurants satisfy the tastebuds so it is a MUST that we grab some dinner there.
when it comes to nightlife, Abbot Kinney is like a hipster's paradise..for anyone that doesn't want to drive all the way to Silver Lake, this is your haven. Cristina celebrated her 21st at the Brig last year and it was quite successful. the atmosphere is so laid back and everyone is so good to look at, it just spells a good time. Tony celebrated at the Other Room which I loved and could definitely go back to, especially because I am so over the Hollywood club scene, I think Abbott Kinney bars are the perfect alternative to the fast paced nightlife I would experience otherwise...OH and I won't have to deal with underage drunk bitches that think they're hot shit or spray tanned douche bags that think they can afford bottle service. hollaa!
anyhow, here are some photos that Devin took (via facebook) & I'm such a fan of how he photographs. the moments in time that he captures are definite kodak moments :)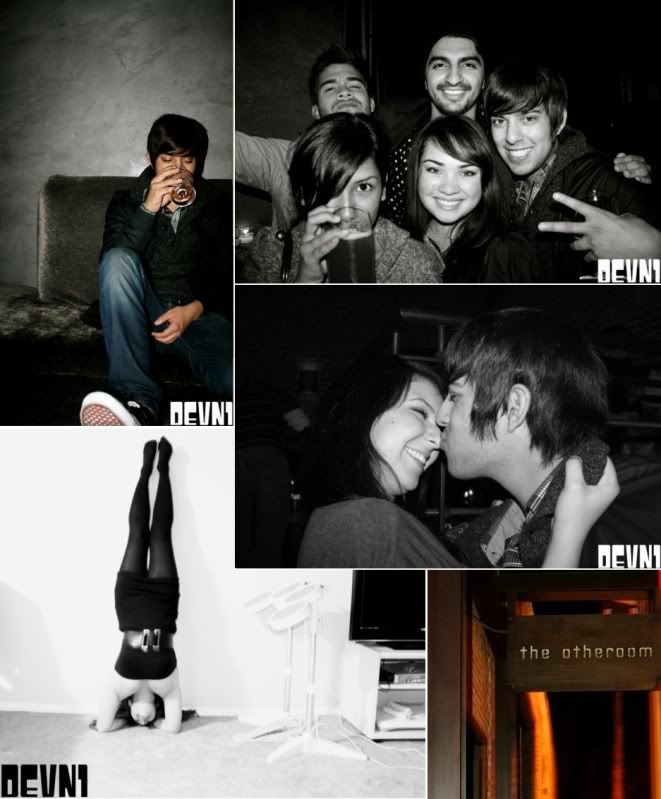 what I wore: aldo boots, tunic by a French brand, leggings from nordstrom & a leather jacket I copped on ebay for 80 bucks

totally random but I wanted to share one of my favorite Christmas songs sung by the wonderful, Charice, featured on the A Very Special Christmas Vol. 7 album (which actually is not that good because all the artists are from the disney channel and you know what that means...me covering my ears) enjoy!